Braces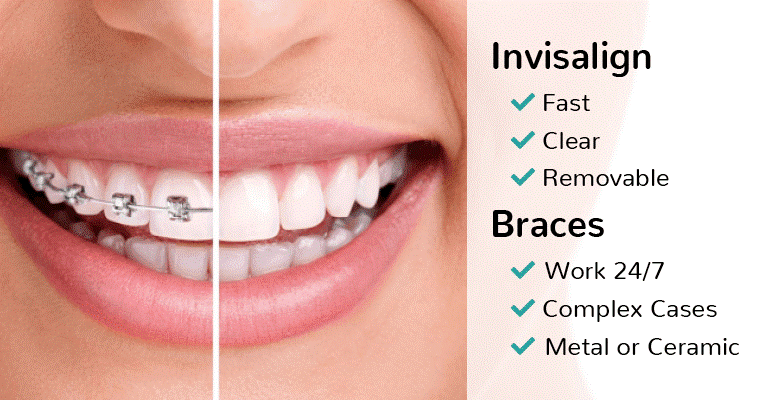 Most people aren't born with a perfect smile. Over time, untreated tooth or jaw misalignment can affect the way you chew and contribute to tooth decay by making it more difficult to remove particles of food from between the teeth.
Our well-qualified Orthodontists can correct a bad bite, create room for erupting teeth, promote healthy jaw growth and improve your smile and your self-esteem using state-of-the-art technology including metal braces, clear ceramic braces, "hidden" braces and transparent aligner technology (Invisalign). We specialise in using orthodontic treatments that minimise discomfort and shorten treatment time.
Our specialist doctors are experienced in a range of orthodontic treatments using fixed or removable braces to straighten your teeth and to give you your best smile. The good news is that braces are better than ever, leading to improved patient comfort and reduced treatment times. There are also more discreet options available.
Why Orthodontics?
Orthodontic treatment is about making the best of your teeth; it's about improving the harmony of your mouth and jaws. Once you can bite correctly, you can eat more comfortably and care for your teeth and gums more easily, and of course, you will have the smile of your dreams.
Benefits of Orthodontic treatments
You might think that straightening your teeth only has aesthetic benefits, but that couldn't be farther from the truth. Crooked teeth can be harder to clean, which can lead to tooth decay or periodontal disease. Teeth that don't fit correctly can make it harder to chew, leading to headaches, shoulder or back pain, and even temporomandibular joint (TMJ) disorders.
How Do Orthodontic Treatments Work?
Orthodontic treatments involve different types of appliances used to retrain muscles, slowly move teeth, and affect your jaw's growth by placing gentle pressure on your teeth and jaw
Fixed Braces in Al Tabeeb Centre (Clear Ceramic and/or Metal)
Metal brackets, wires, and bands of braces are the mainstay of orthodontic treatment. Your orthodontist may recommend braces for significant orthodontic problems or if you want to close gaps and align your teeth quickly. Today's high-tech braces wires are less noticeable than the wires of the past, and colorful elastic bands make braces more fun. While braces are most popular among young adolescents, adults also opt for braces to correct their smile as well.
Traditional fixed braces have evolved to be more efficient than ever, with the introduction of low friction self-ligating braces, which use lighter forces to move your teeth. Although similar in look to traditional metal braces, self-ligating braces (such as Damon brackets) feature a small spring clip instead of using small elastic bands to attach the wire to your brace's brackets, creating less friction and allowing for more efficient tooth movement.
Invisible Braces
Modern orthodontics offer a range of discreet options for patients who may feel self-conscious about wearing braces. Braces today are smaller, more comfortable and more inconspicuous. The introduction of invisible braces in Al Tabeeb Centre marked the beginning of a new era when patients of all ages could have more options to straighten their teeth and have a perfect smile.
Retainers
During orthodontic treatment, your teeth are held in position by your braces, but once they're removed, stretched elastic fibres in the gum try to pull the teeth back to their original position – something we call "orthodontic relapse". It takes time for these fibres to remodel and stop pulling on the teeth. Continued growth of the jaws can also encourage the teeth to move once treatment has been completed.
To guarantee that your teeth stay straight after braces it's important to wear retainers. To help avoid orthodontic relapse we provide our patients with retainers, which hold the teeth in their new position.